Filter Results
Technical Digest 13 Specification and Design of Composite Steel Joists
Building Retrofit
Technical Digest 13 presents information to the specifying professional and the joist manufacturer for the design of CJ-Series Com…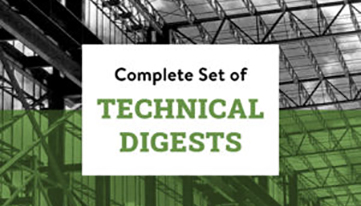 Complete Set of Technical Digests
Building Retrofit, Composite Joists, Fire, Handling & Erection, Lateral Loads, Ponding, Roofs, Special Profiles, Vibration, Welding, Wind & Uplift
Get the complete set of technical digests in hard copy or download format.
45th Edition Standard Specifications Load Tables and Weight Tables for Steel Joists and Joist Girders
Standard Specs / Load & Weight Tables
The new 45th Edition Catalog provides a more practical approach to better define the actual use of the products in the catalog. Al…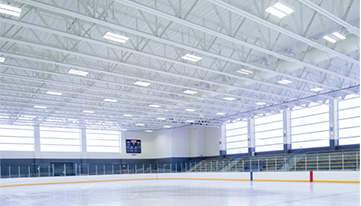 Second Edition CJ-Series Composite Steel Joists
Composite Joists
CJ-Series Composite Steel Joists are an excellent choice for floor framing. The open web steel joists can span long distances to c…
90 Years of Open Web Steel Joist Construction
Standard Specs / Load & Weight Tables
The 90 Year Manual has proven to be a valuable tool for the practicing engineer when researching older joist construction and eval…
Technical Digest 12 Evaluation and Modification of Open Web Steel Joists and Joist Girders
Building Retrofit
This Second Edition of Technical Digest 12 is another addition to the series of Steel Joist Institute publications designed to giv…
Technical Digest 11 Design of Lateral Load Resisting Frames Using Steel Joists and Joist Girders
Lateral Loads
Technical Digest 11 illustrates procedures for the structural engineer to properly analyze, design and specify open web steel jois…
Technical Digest 10 Design of Fire-Resistive Assemblies with Steel Joists
Fire
Complete listing of U.L. fire rated assemblies containing steel joists. Conveniently arranged by hourly rating, type of protection…
Technical Digest 9 Handling and Erection of Steel Joists and Joist Girders
Handling & Erection
This updated Technical Digest contains a thorough coverage of the proper handling and erection procedures to be employed in the fi…
Technical Digest 8 Welding of Open Web Steel Joists and Joist Girders
Welding
This Third Edition of Technical Digest 8 has been developed by an Ad-Hoc Group of the Steel Joist Institute's Engineering Practi…
Design Tools
The Steel Joist Institute provides free design tools to assist in the design of steel joists and Joist Girders, including the steel joist reinforcement, roof and floor bay analysis, moment connections and more.
Standards & Specs
Download the SJI standard specifications, load and weight tables, and the code of standard practice for K, LH, DLH and CJ-Series.
Webinars
Earn PDHs with live and recorded webinars on floor systems, lateral loads, building retrofit, special profiles, bridging and more.